Signup for our blog to receive tips and knowledge on industrial wash and wastewater treatment best practices.
Don't settle for less than a solution from a partner who takes complete responsibility from start to finish. We make it easy to keep things clean and compliance effortless. Contact us today to discuss your wastewater treatment and industrial wash needs.

How a Portable Wash System Can Work For You
When a company is on a remote site doing work for a temporary project, such as building a pipeline, Evans Equipment provides portable wash equipment that can be rented or purchased to be used during the duration of the project. If for whatever reason you are working at a temporary location, portable equipment better serves your needs because your investment is put into equipment you can readily use during the project and even after. We provide portable wash systems when and where you need it- it's that simple. Let us explain how.
Keeping it Clean is Now Easier than Ever
Our unique, rugged and self-contained wash pads can be positioned in almost any location where you need to get things clean. No extensive plumbing or construction is required. Plus, if there's a chance your business will relocate, the wash pad can be moved on a trailer without special oversize permits. Our equipment is convenient and affordable to own or to rent for temporary use.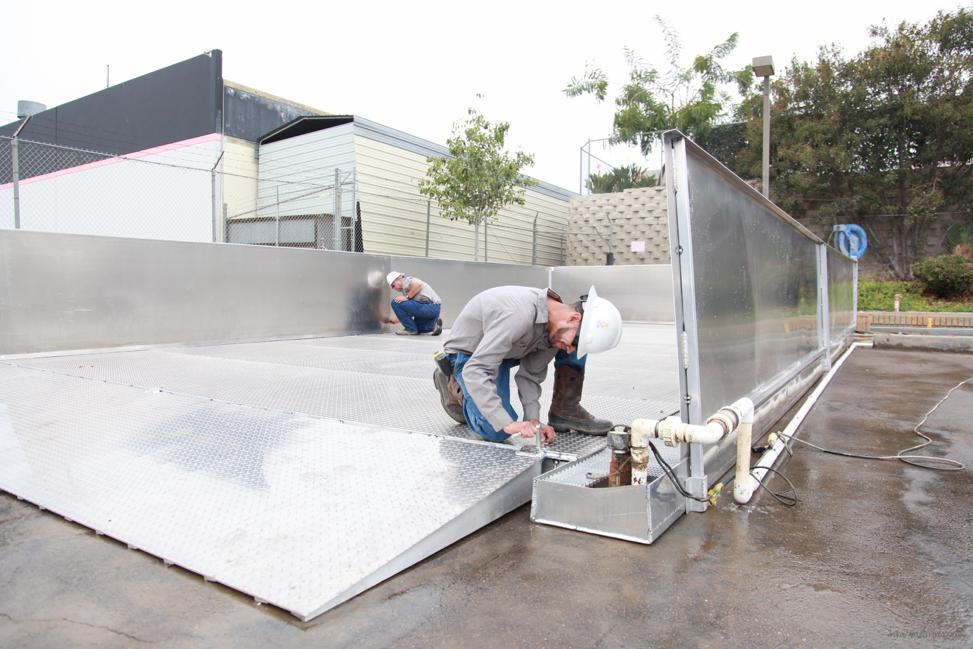 Invest Wisely With a Portable Wash Pad
Leased Space: Don't own your own location or planning a move or expansion? Get a pad you can take with you wherever you go.
Remote Locale: Need to clean at a remote location out of state or internationally? Use a portable wash pad when and where you need it.
Temporary Needs: Only need a wash pad when you finish a long job and leave the site? Rent a portable wash pad for a fraction of the cost of buying one.
The Evans Equipment portable wash pad is a complete wash and wastewater system including not only the pad, but the closed loop environmental wash system to treat water on site. Now you can comply with regulations no matter where you are or when you have equipment to clean. 
Our Promise to You
Portability: The entire system packs down into two standard shipping containers you can then put on a flatbed truck to ship wherever you need it.
Durability: Aluminum or power coated steel. The pad is constructed out of aluminum and is highly resistant to rust and rapid decay associated with dirt and water.
Flexibility: The whole system can be set up in 3 hours by as few as two people. It has a footprint as small as 600 sq. ft.
Affordability: You can own, lease, or rent a pad at a fraction of the cost of building a permanent structure.
For more information on renting or owning your own portable wash pad, call: 1-800-377-5872.