Signup for our blog to receive tips and knowledge on industrial wash and wastewater treatment best practices.
Don't settle for less than a solution from a partner who takes complete responsibility from start to finish. We make it easy to keep things clean and compliance effortless. Contact us today to discuss your wastewater treatment and industrial wash needs.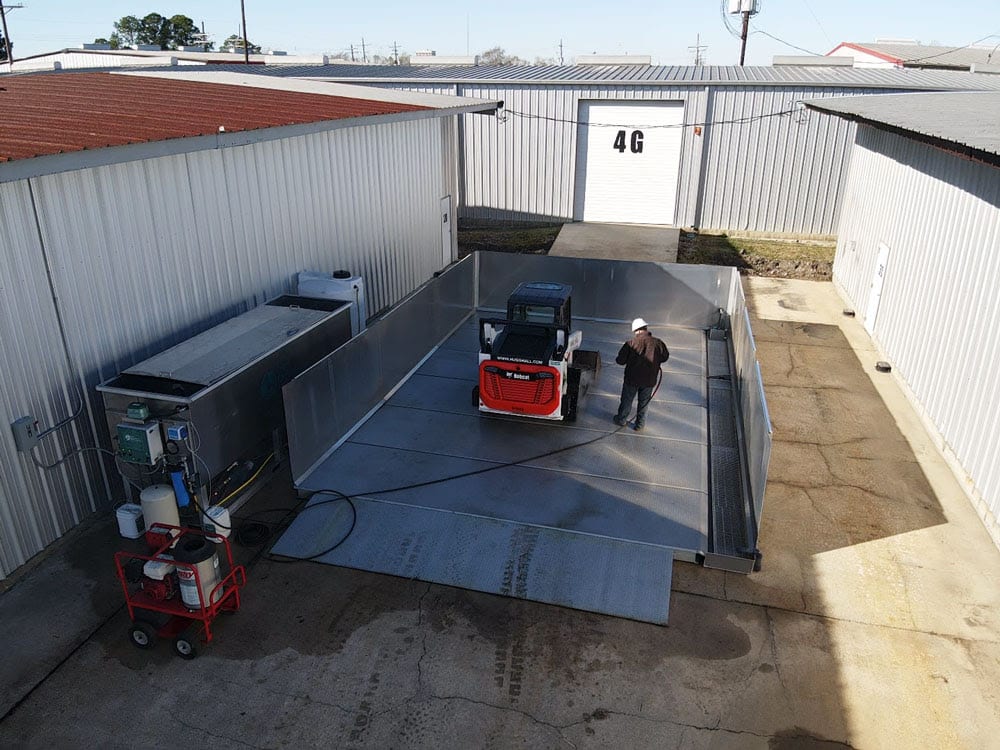 Wastewater System Case Studies
In the water treatment field, one very common concern we encounter from our customers is this: "Wastewater filtration systems can be messy, foul smelling, and full of oil and grease." However, in the last fifteen years, wastewater treatment systems have progressed rapidly.
Three of the main improvements over the last decade include:
How the system moves water.
How water is continuously circulating.
How oxygenating the water prevents BOD growth.
Here are a few recent case studies of how we worked through similar concerns with our customers.
Customizable Solutions That Work For You
Construction and industrial tool rental companies that are always on-the-move often struggle with establishing proper, cost-effective washing stations. Our portable wash pads were an excellent solution for one of our customers.
While working on a temporary site, our customer needed a wash pad, filtration system, and pressure washer. By investing in portable, customizable systems, we were able to provide this customer with a solution that helped the company better serve their customers while also increasing profit.
Although we have worked to create low maintenance systems, routine maintenance is important to keep all of their equipment at optimal efficiency.
Here is a past article that may be helpful on wash system maintenance.
Industrial Cleaning
Another customer was a rental company that hired us for a local job. They provide heavy equipment rentals, such as bulldozers, excavators, and trenchers.
Heavy equipment tends to collect heavy dirt that needs to be cleaned off to keep the equipment working well and to be in a clean condition for the next customer. Additionally, the amount of oil and grease on the machines posed a larger concern for the environment.
We were able to provide wash bays that not only filtered the dirt, oil, and grease from the water, but it was also a long-term, cost-effective investment.
The collection of equipment they chose to have installed (Evans Bio-System, water cannon for heavy mud removal, pressure washers) were part of a turnkey plan.
In our planning, we outlined:
What the business needed immediately.
What the next steps were.
What the equipment and wash bays would look like.
A working timeline for delivery and installation.
Portable Wash Pads
Another customer of ours is an oil and gas industry tool rental company. This company is now well-equipped and ready for the dirty work they will continue to encounter.
This company supplies the necessary tools to larger oil companies, and when they get their tools back from the work sites, they need to be properly cleaned.
Vacuuming and disposing of wastewater can be costly to businesses; sometimes ranging between $3,000 and $10,000 monthly. To reduce costs, our Evans Bio-System recycles the water rather than continually using fresh water that needs to be disposed of once it has been contaminated. On this project, we were able to reduce the amount of disposal costs the customer was encountering
The solution we provided included the following products: a large portable wash pad (20×40), two pressure washers, and oil/ water separators.
Working with portable wash pads gives us the ability to provide space-saving alternatives for businesses who don't want to invest in building wash bays. This customer used our portable wash pads to reduce wastewater and conserve space on their worksite.
If you're currently facing any of these challenges, one of our systems may be the solution that you're looking for! Give us a call at 1-800-377-5872 to talk with us about your specific needs!