Signup for our blog to receive tips and knowledge on industrial wash and wastewater treatment best practices.
Don't settle for less than a solution from a partner who takes complete responsibility from start to finish. We make it easy to keep things clean and compliance effortless. Contact us today to discuss your wastewater treatment and industrial wash needs.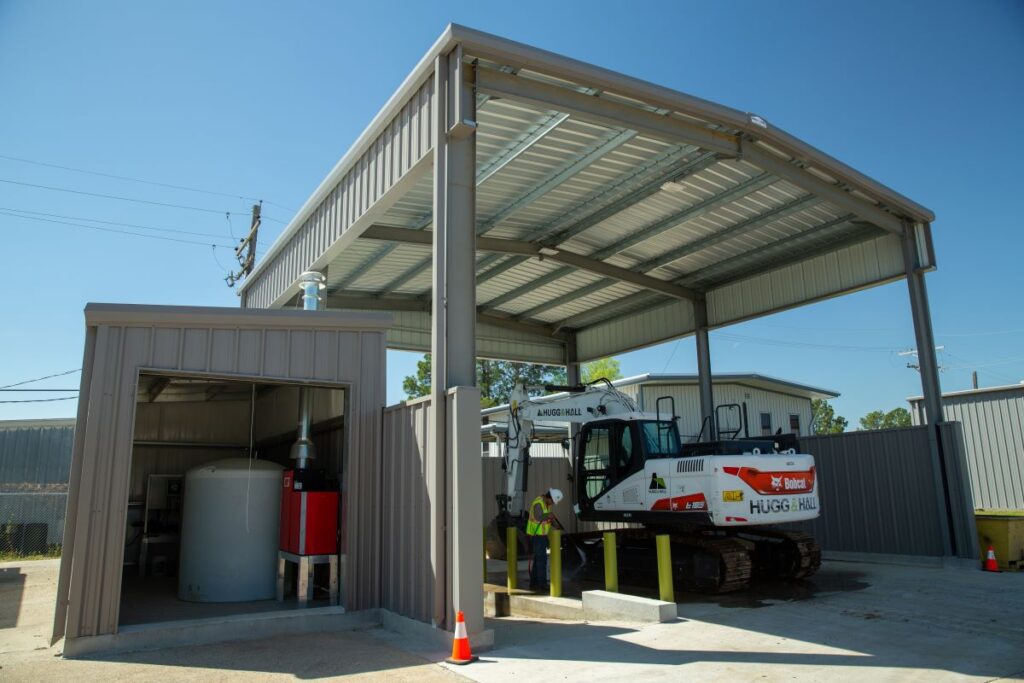 Case Study: Turnkey Permanent Wash Bay Solutions
Hugg & Hall Equipment Company provides a large variety of heavy equipment including loaders, forklifts, boom lifts, air compressors and material handling equipment for rental or sale.
Hugg & Hall customers rely upon their equipment to deliver the high performance required to reliably and safely meet the critical needs of every job. One key factor to optimal performance is keeping their machines clean and functioning like new.
Building a Permanent Wash Bay for Heavy Equipment
The Problem:
After purchasing a new facility to rent and sell their heavy equipment from, Hugg & Hall were in a bind. Their new property did not have a wash pad of any kind, let alone one in compliance with local regulations. Without this vital aspect to their process, they would be unable to operate from the new location for months.
When they started digging into the detailed requirements of designing and constructing a full wash bay system, concern arose over potential delays in being fully operational at the new facility. The design details would require unique expertise, the construction timeline after design would likely be several months and the required project management would tie up valuable Hugg & Hall staff needed for Hugg & Hall customer service.
The Hugg & Hall team knew they needed the right system to support properly cleaning equipment and managing wastewater without distracting their own operations away from the top priority of Hugg & Hall customer service. Hugg & Hall was determined to prioritize properly servicing their customers immediately over working on internal facilities modifications.
The Solution:
Hugg & Hall called Evan's Equipment & Environmental and scheduled a meeting to find out if there was a better way to accomplish their goal of getting their new facility up and running immediately.
After talking with the Evans Equipment & Environmental team, Hugg & Hall realized they had found a partner in Evans Equipment that could help them achieve their business objective of properly serving their customer needs immediately without cutting corners.
Installing a wash bay is a labor intensive, very detailed project, however, with the Evans Equipment process, the client doesn't even have to know just how many obstacles and challenges we face. Every new job presents unique challenges and opportunities for the Evans' team to find new solutions. As a turn-key solution, our customers do not experience the headache of challenges or setbacks.
Important system design elements are handled by the experienced Evan's team:
Pumps and associated water pressure for the application
Nozzles locations for wash water and detergents
Proper detergents and degreasers for the specific contaminants on equipment.
Detergent and degreaser metering to optimize cost and minimize waste
Plumbing design and construction for all wash and waste water
Civil design and construction for proper wash and waste water capture
Permits: waste water system permitting is locally regulated for each site and is often a very lengthy and time consuming process
With all of Evan's Equipment design and construction capability, the problem of being able to begin equipment wash operations immediately still remained.
Hugg & Hall needed to be open for business while the new wash bay was being built. Evans Equipment had the solution – installing a temporary portable wash pad. Evan's Equipment & Environmental provides portable modular wash pads for customers who need a wash solution on an interim or temporary application. This portable wash pad service enabled Hugg & Hall to serve their customer needs without delays; the new site was able to open right away allowing Hugg & Hall to meet their objective of properly serving their customer needs immediately without cutting corners.
The Icing On The Cake:
The total solutions approach is what sets Evan's Equipment apart . Evan's continued support after the initial install is part of the total solution. The Evan's team remains available for field service and technical support.
Evan's Equipment & Environmental offers training, service and repairs by qualified technicians. Evan's maintains an inventory of supplies, and offers preventative maintenance services. Our solutions include the support you'll need to use and maintain your water treatment system whenever and wherever you need it.
Hugg & Hall was able to open its new facility on schedule by utilizing the unique capabilities of Evan's Equipment and Environmental. Whether it's design, build or support, the Evan's Equipment team will offer you solutions to help you meet your business goals.