Signup for our blog to receive tips and knowledge on industrial wash and wastewater treatment best practices.
Don't settle for less than a solution from a partner who takes complete responsibility from start to finish. We make it easy to keep things clean and compliance effortless. Contact us today to discuss your wastewater treatment and industrial wash needs.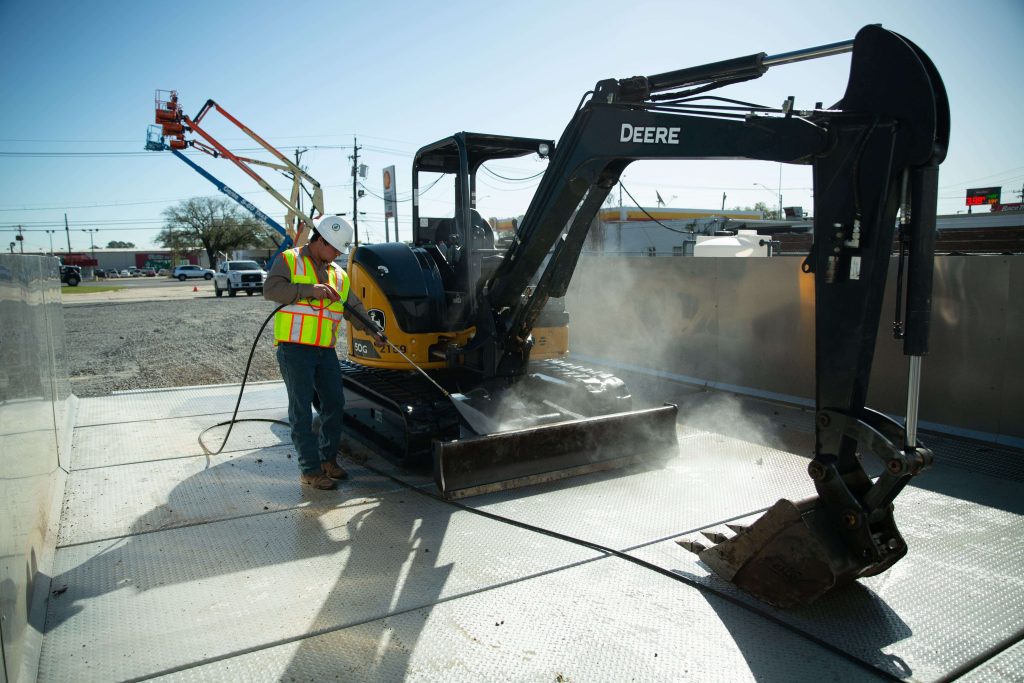 Unlock Efficiency: Portable vs. Permanent Wash Bays – How to Choose the Right Fit
Choosing the right wash equipment in industrial cleaning must be a carefully considered decision, whether your project is permanent or temporary. At Evans Equipment, we make it our mission to guide you in selecting wash equipment that aligns with your unique specifications while addressing environmental concerns. This comprehensive guide delves into the benefits of Evans' mobile and permanent wash bays.
Evans' Wash Bays: Engineered for Your Success
Evans' wash bays stand out for their ability to cater to your needs, lower costs, save time, and align seamlessly with environmental regulations and requirements.
Portable Wash Bays
Ideal for those with rental facilities, temporary jobs, projects on the move, or remote locations, Evans' mobile wash bays are designed to be:
Portable
Rugged
Self-contained
These mobile wash bays are customized to your needs and offer unparalleled convenience and cost-effective measures.
Convenience:
Evans' mobile wash bays provide the perfect solution if you seek a convenient and timely way to acquire and transport your equipment. The design allows you to conserve and recycle wash water in a closed loop, seamlessly integrating with our water treatment systems and pressure washing equipment. This closed-loop recycling design saves time and significantly lowers the expenses associated with wastewater discharge.
Another cost-effective option is our rental service for the Evans wash bays, offering reliability and affordability in situations where installing a permanent bay is not practical.
Mobility:
Working on offsite projects demands equipment that is easy to maintain and transport. Evans' mobile wash bays can be easily transported between locations on trailers without requiring special oversize permits. Once on-site, the bay can be positioned in almost any area to clean heavy equipment efficiently. Our service team can deliver and install a turnkey portable system with short cycle times for projects involving multiple locations, ensuring your wash bay is always where you need it.
Permanent Wash Bays
Evans' permanent wash bays are designed for longevity, offering ongoing service tailored to your needs, surrounding systems, and the area.
Custom Design:
With our unique design approach, we can craft, build, install, and maintain a custom wash bay for you. Our detailed models and drawings provide information on the equipment layout, construction details, and electrical and plumbing specifications. This customizable approach ensures your wash bay includes all the necessary functions and equipment, such as a wash rack, treatment system, closed-loop mechanism, industrial-grade pressure washers, electric and plumbing connections, and comprehensive training and scheduled maintenance.
A permanent wash bay with wastewater pretreatment is the ideal choice for projects dealing with heavy contamination like sludge or thick mud. Evans' wash bays come equipped with top-of-the-line industrial pressure washers and wastewater treatment equipment, allowing you to recycle or discharge water in an environmentally friendly way.
Sustainability:
Ensuring the sustainability and longevity of your equipment is a crucial part of selecting the right wash bay. At Evans Equipment, our focus extends beyond the initial installation to the continuous upkeep and efficiency of the equipment. Once you've selected and customized your wash bay, scheduled maintenance becomes integral to keeping the equipment clean and well-maintained. This proactive approach not only ensures proper functionality but also reduces the need for repairs or replacements, prolonging the lifespan of your equipment, preventing delays in jobs, and ultimately lowering overall repair expenses.
Mobile vs. Permanent: How to Decide
Mobile:
Ideal for Leased Facilities
Perfect for Temporary Jobs or Projects
Easy Transportation on Trailers
Permanent:
Long-Lasting Structure
Ongoing Service for Facility Owners
Ideal for Facilities with Accumulating Waste
Why Evans?
Evans Equipment & Environmental is a leader in the Design, Build, and Service of equipment wash systems. Our Portable Wash Pads have become a preferred choice, solving the challenges faced with short-term equipment wash bay needs.
Contact us today for details about how we can help your business. Explore more about our portable wash bays and permanent wash bays by visiting our website.