Signup for our blog to receive tips and knowledge on industrial wash and wastewater treatment best practices.
Don't settle for less than a solution from a partner who takes complete responsibility from start to finish. We make it easy to keep things clean and compliance effortless. Contact us today to discuss your wastewater treatment and industrial wash needs.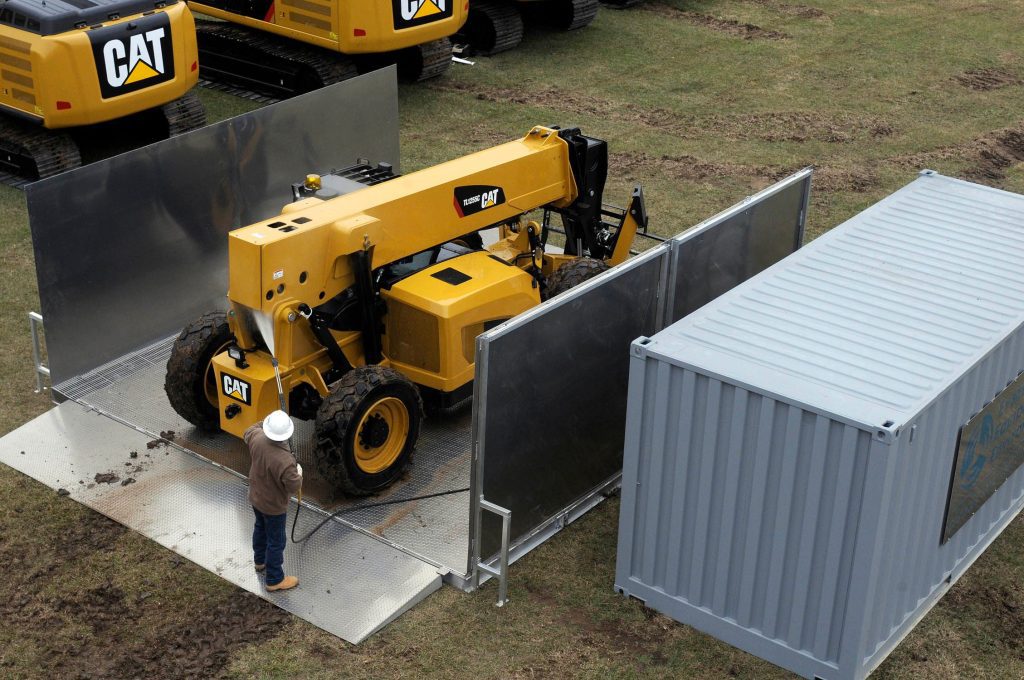 Portable Wash Pads: Flexibility in Wastewater Treatment Systems
Managing equipment wash systems and wastewater treatment for your business carries many challenges. The challenges are even greater when the wash system is remote or not at a fixed location.
Environmental compliance likely tops the list of these challenges, followed by the various system components that contribute to overall system performance.
Environmental compliance
Cleaning capacity
Water consumption
Maintenance requirements
Any and all of the common challenges in managing an equipment wash system can become real problems for temporary installations.
Solutions to the temporary cleaning facilities often left owners with the lesser of evils as the only options.
Contaminated waste-water on the ground / Environmental Fines
Poor cleaning capacity / low water pressure
Expensive or unavailable water source
Unreliable and difficult to maintain equipment
Fortunately, there is a reliable solution for temporary and remote wash systems…
Portable Wash Pads successfully address the "lesser of evils" that equipment owners have had to risk in the past offering a complete solution for what was once a compliance nightmare.
The Portable Wash Pad System Solution
If you haven't been exposed to portable wash pad systems, you may find a quick Q & A helpful in determining whether your business would benefit.
How does a portable wash pad system help with Environmental Compliance?
The biggest challenge in maintaining compliance is capturing and treating waste-water. In remote or temporary operations, many people wash equipment in an open area without any way to capture the contaminated water. If there were one top cause of environmental non-compliance, it would have to be contaminated water run off to the environment.
Properly designed Portable Wash Pads include an elevated floor with walls on the sides to capture waste-water in a drain. Regarding environmental compliance the complete capture of contaminated water is an absolutely critical feature.
Why does a Portable Wash Pad increase equipment wash capacity?
A well-designed Portable Wash Pad includes properly designed pumps and pressure washer and wash treatments. Each of these elements will determine how long it takes to clean any given piece of equipment. Greater speed and effectiveness in cleaning each piece of equipment translates to more capacity of the wash system.
It is also important to recognize the relationship between the pumps, pressure washer and wash treatment as system components and the waste-water treatment system that is processing the wash water. The two sides of the operation need to be designed as an integrated system to match capacities. It's not good to have a pressure wash system that overwhelms the water treatment system. Proper design makes the Portable Wash Pad an integrated system.
How does a Portable Wash Pad help with the availability and cost of wash water?
Managing wash water volume and cost is related to the containment and capture of the water described in question number 1. By capturing the wash water, you can treat contaminated water to make it re-usable for washing. The water treatment system is designed to allow recycling water and capturing contaminants.
While make-up water is often required in a portable system, the volume of water required is greatly reduced compared to a typical remote wash pad. By consuming less water, the owner saves money on both fresh water consumption and contaminated water disposal.
What makes a Portable Wash Pad easier to maintain and more reliable?
The modular construction of the Portable Wash Pad is designed with access and maintenance in mind. The first obstacle to maintenance is the ability to isolate any given component of a system. The Portable Wash Pad is a fully modular system allowing a maintenance tech to access and service each of the component parts.
The reliability of the system is a function of the integrated system design and the high quality of the individual components. The Portable Wash Pad mechanical components are industry leading quality and reliability making the overall integrated system as reliable as the system can be to meet user demands.
The innovation of the Portable Wash Pad system provides flexibility for business operators with remote or temporary equipment cleaning needs.
Learn more about Portable Wash Pads to find out how your business might improve environmental compliance, lower costs and operate more efficiently for your remote or temporary facilities.