Signup for our blog to receive tips and knowledge on industrial wash and wastewater treatment best practices.
Don't settle for less than a solution from a partner who takes complete responsibility from start to finish. We make it easy to keep things clean and compliance effortless. Contact us today to discuss your wastewater treatment and industrial wash needs.

Barge Cleaning on the Mississippi
At Evans Equipment, we service industrial wash and wastewater treatment needs across the Gulf Coast and beyond.
We understand that cleaning your equipment when and where you need it can provide challenges, both logistically and financially. Only in select situations will there be room in the budget or the space required to install a permanent wash station on site.
Introducing portable trailer packages, completely outfitted with:
Industrial Pressure Washers
Safety Features
GPS Tracking
24/7 Technical Service and Support
As a recent example, we delivered a double trailer package along the Mississippi River to aid in barge repair services. Before sections of the barge could be repaired, it had to be thoroughly degassed and sanitized using our pressure washers and chemical detergents.
Barge cleaning is similar to tank cleaning on land in that certain VOCs need to be eliminated according to governmental regulations. By using portable wash systems that can be delivered on a quick turnaround, the task becomes much more manageable in terms of time and budget.
Contact Evans today to improve your barge cleaning or other off-site industrial cleaning processes. We'll provide the knowledge, experience, and equipment you need to get the job done safely and correctly.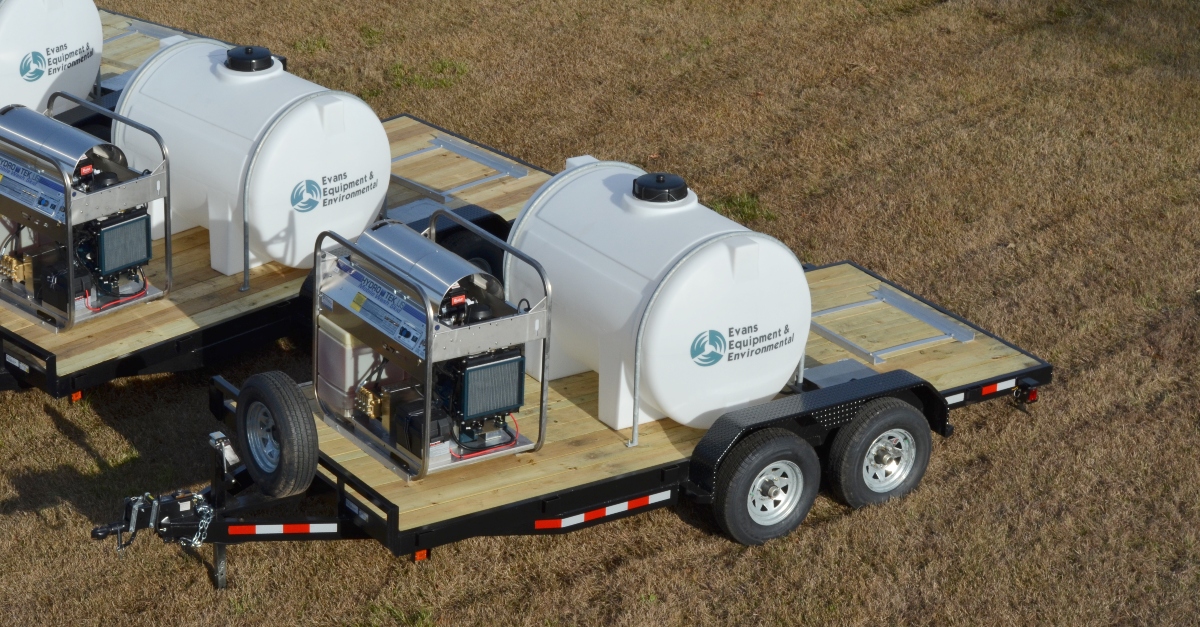 Trailer Mounted Pressure Washer Package
Pressures ranging from 2000-6000 PSI
Completely self-contained
Comes with 500 gallon water tank on 16-ft. trailer
Ideal for remote location cleaning
Hot-Cold Diesel Engine/Diesel Burner
Pressures ranging from 2000-3500 PSI
Stainless steel construction
Ideal for refinery/chemical Plant
Explosion Proof Pressure Washer
Class 1 Division 1 Group C&D
Offshore ready with galvanized exterior and stainless steel construction
Four lifting eyes for easy maneuvering with crane or forklift
All electrically heated without an open flame
Supplies Available
Tsunami – Heavy Duty Degreaser
Quick Split – Oil & Water Demulsifier
Shark Bite – Heavy Duty Detergent & Degreaser
Add our effective, environmentally safe detergent to any rental order.
Don't see what you need here? Give us a call at 800-377-5872 or contact your local representative for more information about locations, pricing, and availability.